Japan Oil Blotting Paper Natural Material Gold Leaf 50sheets wholesale
FOB Price:

US $ 1.57 - 2.35 / Piece

|

Get Latest Price
Min.Order Quantity:
2520 Piece/Pieces
Supply Ability:
1 Forty-Foot Container per Month
Port:
Kobe, Japan
Payment Terms:
L/C,T/T,100% Irrevocalbe L/C At Sight or 100% T/T Advance Payment

Loading, Please wait...
Quick Details
Type:

Other

Place of Origin:

Japan

Brand Name:

will be disclosed through negotiation

Model Number:

FA-16

Sales Agent:

looking for relyable partners in Asian Countries
Packaging & Delivery
Packaging Details:
*Sheet Size: 90mm X 90mm
*Packaging: 50sheets/piece 840pieces/carton
Delivery Detail:
Immediately
Specifications
Gold Leaf Pressed Paper
Japanese Kenaf used
The highest class Japanese Paper used
Don't miss this time!



Japan Oil Blotting Paper Natural Material Gold Leaf 50sheets wholesale



*Sheet Size: 90mm X 90mm
*Gold Leaf Pressed Paper
*Japanese Kenaf used
*The highest class Japanese Paper used
HOW TO USE OIL BLOTTING PAPER +++INSTRUCTION+++
Buy oil blotting papers and unseal the oil blotting papers' packaging.

Retrieve an oil blotting paper sheet. Some packaging requires that you manually cut sheets. If you have to cut sheets, wash your hands and use a clean pair of scissors; otherwise, the oil on your fingers and the debris from the scissors may contaminate the sheets.

Press a single blotting paper sheet against the shiny areas of your face. Start with the T-zone areas of the nose, chin and forehead. Allow the blotting paper to absorb the oil without rubbing or moving it against your skin. Leave the blotting paper against your skin for a few seconds while the sheet absorbs the oil.

Place a blotting paper sheet on other areas of your face as necessary.

Use clean portions of the oil blotting paper after oil has been absorbed through the pieces held against the skin. Get mileage out of a single piece of oil blotting paper by starting with the sheet's corner edge and working your way to the opposite edge as you use the sheet.

Dispose of the used oil blotting paper.
TIPS & WARNING
It is not uncommon to have to use multiple areas of an oil-blotting sheet on a single part of your face. If you find a part of your face to be particularly oily, simply use other clean portions of the oil blotting paper on the same area.

Do not use a single oil-blotting sheet more than once, even if you have not used the entire sheet of oil blotting paper. Reusing an oil-blotting sheet can cause breakouts.

Do not reapply makeup until you have used oil-blotting sheets to absorb all the excess oil on your face. Adding more makeup on top of oily skin can clog pores and contaminates the makeup container and applicator.
Samples available when price is mostly agreed.
# Product with Japanese wordings
# Made in Japan
We have confidence for the quality of product,
Made in Japan.
Let's challenge for the new release of product
in your market !
Click Below

We are a trustworthy exporter of "Made in Japan products"

Headquarter in Shikokuchuo-city, Ehime

Industrial Area in Shikokuchuo-city
*Registration of the Corporation:
a. Company Name: GLOCAL CORP.
b. Country/Territory: Japan
c. Registered Address: 3544-2, Doichotsune , Shikokuchuo-shi, Ehime, Japan Zip: 799-0704
d. Legal Form: Private Orgnization
e. Registration No.: 5000-01-015257
f. Issuing Authority: Matsuyama Legal Affairs Bureau Shikokuchuo Branch.
*Business Outline:
1. Sales of Sanitary Product
2. Sales of Paper Secondary Product
3. Sales of Cosmetic Products
4. Sales of Industrial Chemical and Various Material
5. Sales of Used Flexible Container Bag
6. Sales of Agricultural Products (Vegetable etc )
7. Sales of Work of Art, Art Replica, Museum Product
8. Import and Export Duties related to the above items
9. All Duties related to the above items
*Bank Account:
a. The Hiroshima Bank, Ltd. Kawanoe Branch [USD & JPY]
b. The Iyo Bank, Ltd. Doi Branch [JPY]
c. JA Bank Ehime Doi-chuo Branch [JPY]
*Membership:
a. 6th year Gold Supplier in Alibaba
b. Member of the Shikokuchuo Chamber of Commerce & Industry

*Certificates:
The certificates, which we can get from each manufacturer, are as follows;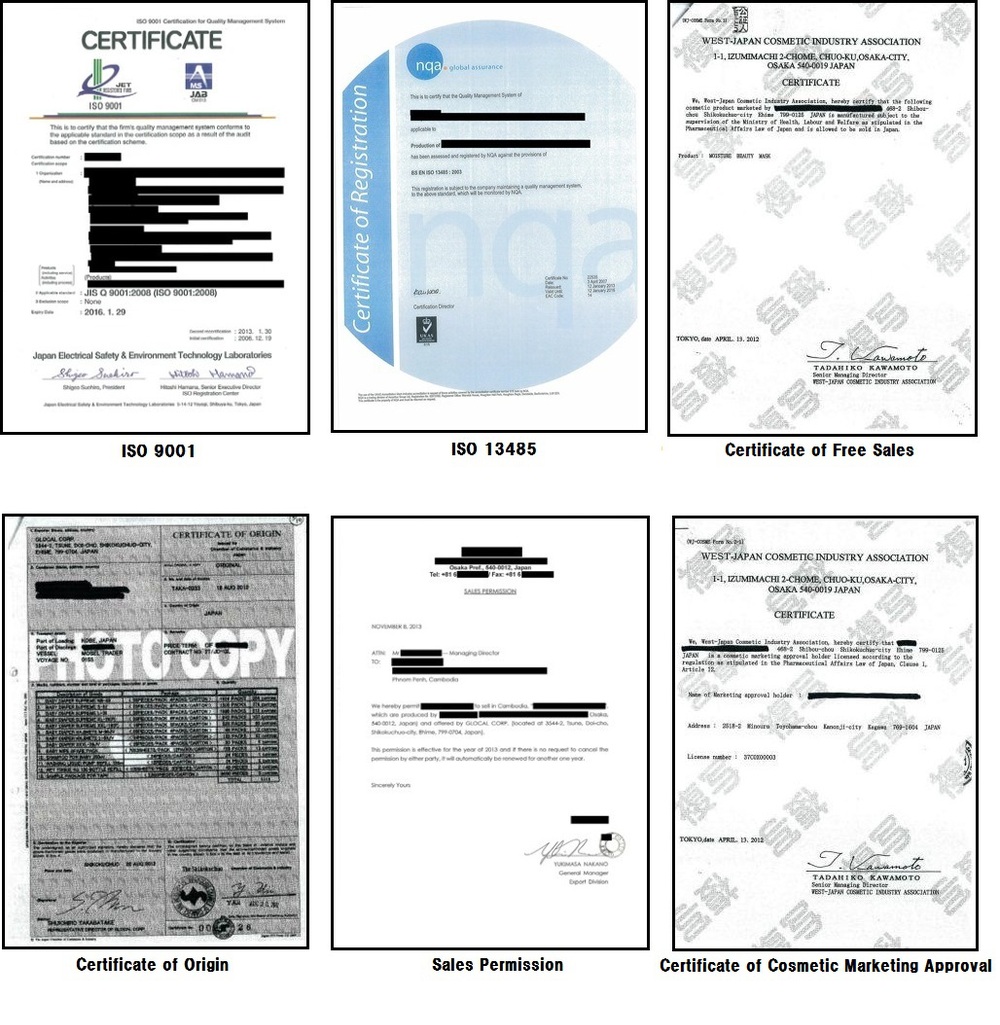 | Buyer | Product Name | Price | Quantity | Order Time(GMT+8) |
| --- | --- | --- | --- | --- |